cordischi
works 2015/17
As part of the Fridays at OCRA in Montalcino, Paola Cordischi presents "geometric" works, which she worked on the last three years. The works are inspired by flags and carpet tradition and represent virtual spaces of great depth. They are "abstract" works that focus on the effect created by primary colours on the warm and neutral jute support.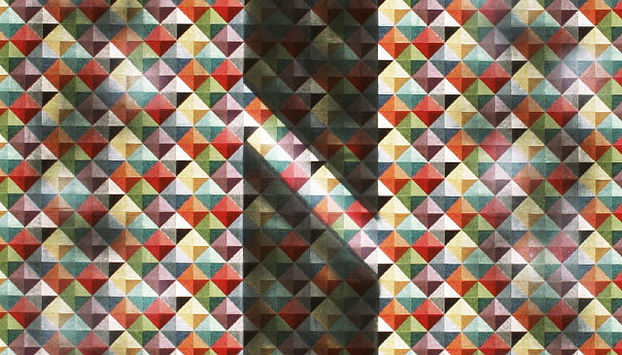 CORDISCHI | WORKS 2015/17
OCRA Creative Workshop of Living – Montalcino (Siena)
Friday 25 August 2017 at 5:00 p.m.
20 large-format works are on display in the halls and cloister of the Complex of Saint Augustine. They are the result of the artist's work over the last three years, are made from mixed media on fabric, and summarize various themes of Cordischi's artistic research:
Cordischi's work is slightly influenced by 20th and 21th century art, such as Abstractionism, Arte Povera and Informal Art, as well as artistic movements from other cultures: Primitivism, African Art, Native American Art, Oriental Art and many more. A personal mix that aims to include the art of all humanity.
Playing with matter has always been a main aspect of Paola Cordischi's work: Cordischi uses little-refined, raw or recovered materials to create "anti-classical" works that are an alternative to and an innovation in Western aesthetics. During the vernissage, two videos and a catalogue of her most recent works will be presented.
About | Paola Cordischi
Paola Cordischi was born and trained in Rome. At the end of the 80's, she completed her studies by graduating in psychology and language rehabilitation. Subsequently, she took a three-year course in art at San Giacomo in Rome and obtained a degree. For some years, she travelled between the United States and Central America, where she studied the ancient and contemporary artistic expressions of the indigenous peoples. By working with artists and artisans of Indian and Mexican origin, she created art and design objects, in particular textiles, inspired by American Indian and Pre-Columbian art. In subsequent trips, she undertook further studies of the visual traditions of non-European cultures and continued her research on the aesthetics of primitive and popular cultures. Her artistic research covered many different areas: painting, sculpture, set design, design, fashion, costume and education. In the '90s, she used mainly natural and recycled materials in her experiments inspired by primitive and popular art, while in more recent years she has carried out abstract and/or geometric painting research on fabric, jute and canvas influenced by contemporary European art. Since 1995, she has exhibited in many solo and group exhibitions in Italy (Rome, Naples, Viterbo, Civita di Bagnoregio, Bracciano, Cerveteri, Spoleto, Tuscania, Trevignano, Montalcino) and abroad (S. Francisco USA and S. Miguel de Allende in Mexico). The following authors have written about her: Alberto Castelli, Pamela Cento, Gianfranco Mascelli, Marco di Mauro, Enrico Mascelloni.
INFO ABOUT THE EXHIBITION
Inauguration
Friday 25 August 2017 at 5:00 p.m.
The tasting is offered by the winery Stella di Campalto
Stella di Campalto Farm
The farm S. Giuseppe takes its name from the sharecropping land that belonged to Giuseppe Martelli, who gave it the name in 1910. The land was abandoned in 1940 and fifty years later, it was taken over by Stella di Campalto. It is located south of the town of Montalcino, near the Abbey of Sant'Antimo. The abbey and the church are isolated in the green countryside. The simplicity of its architectural lines and the purity of the light that radiates from the alabaster from the nearby quarry, which the abbey is made of, when it is illuminated by the sun, are striking. Harmony and simplicity, two qualities of the Romanesque church, are in fact qualities typical of the surrounding area: the company preserves the vines and cultivations, while protecting the natural habitat in its surroundings. Since 1995, it has had a biodynamic certification (certification body Sot Icea and since 2005 certification body Demeter).
www.stelladicampalto.it
Exhibition open until 16 September 2017
Opening hours: 10:00 a.m. – 5:30 p.m.
OCRA – Creative Workshop of Living
Via Boldrini 4 – Montalcino (Siena)
Free entrance
FOR MORE INFORMATION
OCRA – Officina Creativa dell'Abitare
Via Boldrini 4 – Montalcino – Italy
tel. +39 0577 847065
ocra@scuolapermanenteabitare.org
www.scuolapermanenteabitare.org
Paola Cordischi
+39 340.87 50 060