ANCIENT ENERGY
John Cass
From 31 May to 27 June, a collection of statues by Scottish artist John Cass is on display in the cloister of the Convent of Saint Augustine in Montalcino. The statues express deep vital energy freely extracted from stones.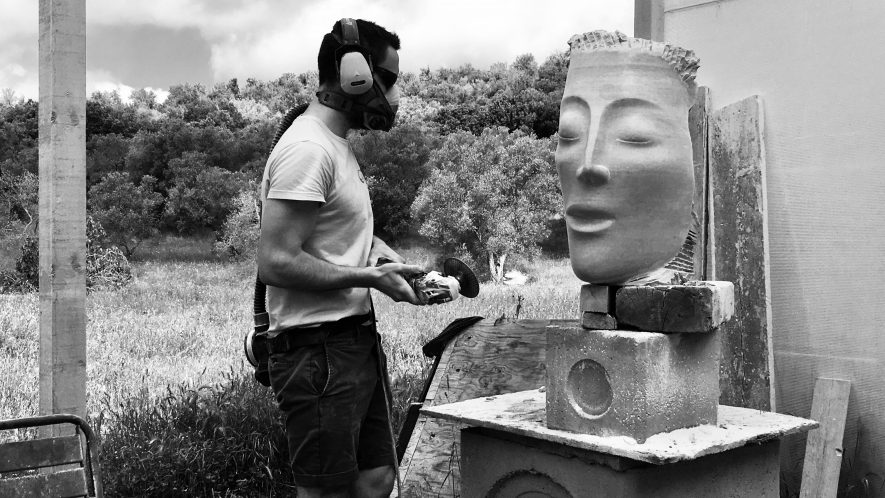 John Cass | Ancient Energy
From Friday 31 May to Wednesday 26 June 2019
OCRA – Creative Workshop of Living
Via Boldrini 4 – Montalcino (Siena)
Under the patronage of the Municipality of Montalcino, Scuola Permanente dell'Abitare presents Ancient Energy, an exhibition of a selection of fascinating stone sculptures by John Cass, a series of faces created from the delicate craftsmanship of a promising young artist.
When I start working stone, the final result is unclear. By engraving patterns by intuition on the surface of the stone, a face or a body begins emerging and thus a multitude of interactions comes into being; and in the end, as far as possible, the sculpture reaches a state of impeccable rest. [John Cass]
His works are characterized by rough and angular forms that welcome the loving, caring and determined gestures of the artist, who, through his them, transfers to the material his vital energy, the same energy which, day after day, takes him back in front of the next block of stone to be shaped with care and attention. He creates sculptures in the round, faces that do not necessarily directly represent human beings but that take us back to something that has existed before us and beyond us, something that reaches deep into our hearts, passes through us and comes out unchanged and then expands in time and space. Universal and eternal emotion. He shapes stone and makes it alive, stone itself conveys emotions that become universal to the observer looking at it.
Sculptures are in space and to occupy a part of it, they are something that cannot be ignored, like a free body that lets itself be admired from every point of view. And so, the cloister of the old Monastery of Saint Augustine becomes alive with statues that seem to dialogue with each other as if they had come to us from another era. Sculpture, an art form beyond time and history, is characterized by undisputed durability, which implies preservation through centuries; it is the means of expression that the artist has chosen for such an arduous task.
John calls the emerging attitude a "playful position", a situation where tenacity, strength and spatial reasoning characterize the correct approach to the spectrum of unknown dangers and opportunities he is faced with.
John doesn't like any one stone over another. Every time, he establishes a unique relationship with the material, because each sculpture requires spontaneous research, which the artist carries out in order to gradually let forms emerge and give shape to the finished work, which is the result of a subjective and unrepeatable creative act. And so, the malleability, hardness and brightness of each individual block, whether it is limestone, Carrara marble, dolomite stone or onyx, actively contribute to defining the form, and, to some extent, the energy signature of the artist's gestures, as well as, in the end, the result. To work stone requires some effort to align one's attitude to its materiality, to knowingly recognize the insurmountable difficulty of one's task with lightness. Materials are alive, they respond to the gestures of the person who speaks to them, whether it is a delicate or a strong, brutal gesture.
I don't express myself through my works. In fact, many things that my subjectivity would like to define are an obstacle to my creative flow. Stone seemed to me to be the ideal medium, because its physical resistance combined with the complicated cognitive task of sculpting a shape without having any set of guiding parameters and having potentially unlimited possibilities poses a challenge that requires me to use all my faculties.
The series of gestures that seem to flow directly out of the most hidden and primitive part of the mind is an ancestral feeling, a psychophysical state where the present is suspended; a state that allows the artist to be highly productive and that guides his gestures. John seems to be facing a constant challenge; when he is sculpting, he seems to reconcile his being with himself and the earth, while he aligns himself with the vital flow of the universe that permeates each of us. He uses the technique of free carving, showing his great ability as, without hesitation and supported by his knowledge of the technical characteristics and physical response of the materials, he works without making any preparatory drawings or using measuring instruments. The tools he uses are hand chisels, hammers, angle grinders, pneumatic hammers and drills.
---
About | John Eliot Cass
John Eliot Cass was born in Scotland in 1993. He has been working stone since he was 19. Before he devoted his life entirely to sculpture, he studied painting and drawing as an autodidact. John Cass lives and works in Tuscany, near Grosseto.
---
VERNISSAGE. Meet the artist
Friday 31 May 2019 at 7:00 p.m.
OCRA Creative Workshop of Living
Via Boldrini 4, Complex of Saint Augustine – Montalcino (Siena)
The opening tasting is offered by the farm Piombaia. The farm Piombaia was born from the union of the families Rossi (originally from Montalcino) and Cantini (originally from Pisa). For three generations, the two families have run the company until today, when Francesco, Cecilia and Vittorio Cantini have taken over the management while always preserving the land and cherishing the life cycles of nature, so much so that they have adopted the principles of biodynamic agriculture. Biodynamic agriculture implies a particular way of working, observing and experiencing the earth. Having a deep bond with nature and preserving its pace entails not using any synthetic or chemical pesticides and managing the soil based on the cosmic and lunar cycles. According to the biodynamic method, only natural means may be used to preserve and increase the fertility and vitality of the soil: compost produced from solid farmyard manure, vegetable fertilizers, crop rotations, mechanical pest control and pesticides based on mineral and vegetable substances. A philosophy of life that helps people appreciate the harmony of a cultivated field and the succession of seasons and time. The land of the farm Piombaia stretches for about 210 hectares at a height that varies from 400 to 600 metres above sea level and is divided into: 12 hectares of vineyards, 70 hectares of arable land, 2 hectares of olive groves, and 2 hectares of vegetables. The rest is a wooded area that surrounds the entire property.
www.piombaia.com
---
Info about the exhibition
From Friday 31 May to Wednesday 26 June 2019
Opening hours: 10:00 a.m. – 6:00 p.m. (Monday to Friday)
Free entrance
OCRA – Creative Workshop of Living
+39 0577 847 065 | info@ocramontalcino.it
www.ocramontalcino.it