mitos | arxaia
From 26 July to 16 August OCRA Montalcino hosts a varied art collection that takes visitors back to ancient times, to let them go beyond the present and catch a glimpse of infinity.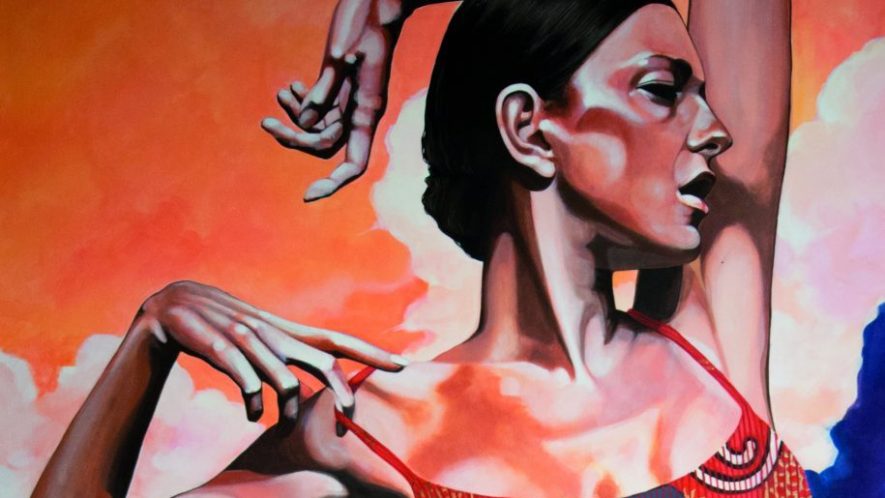 Mitos | Arxaia
form 26 July to 16 August
OCRA – Officina Creativa dell'Abitare
Via Boldrini 4 – Montalcino (SI)
Under the patronage of the Municipality of Montalcino, the Permanent School of Living presents Mitos, when myth becomes visual fascination filtered through prisms of life and different cultures. An exhibition curated by Mario Bernardini and Corrado Paolo D'Alessandro.
The cloister and the halls of the Complex of Saint Augustine will be embellished with a series of works created by a couple of all-round artists who work with various types of materials, from canvas to ceramics, to create sculptures, paintings and valuable art objects. The following objects are on display, set-up in a narrative order: paintings, sculptures, Raku jewellery, ceramics, terracotta nativity scenes, and majolica. Universal and deeply sincere works inspired by the most ancestral human emotions. Simple, linear and rigid sculptures with an aura of mystery. Gods of the past or people of the future; they show the disturbing search for creativity free from patterns and chains.
Modern and traditional geometries are created from the creative need of two artists: the sculptures proposed by Arxaia are the most varied. Classical and ethnic traditions merge into plastic forms. Ferrous rust, hard stone enamels and the warmth of gold enhance shapes making them unique and therefore precious.
Meeting Mario and Corrado is an intense experience. One cannot help but be charmed by their presence and their lively gaze. They are artisan artists with a deep knowledge of the technique and an absolute mastery of skill, thanks to which they are able to experiment with different artistic expressions by leveraging on their vast and original cultural background. What is striking is not only the quality but also the depth of thought of their works on display, an energy force that emanates from their very presence.  Mario Bernardini and Corrado Paolo d'Alessandro have devoted their lives to beauty. Their deep admiration and fascination for different human cultures and their curiosity and experimentation are the strength that motivates them to create. An artistic experimentation supported by a deep passion for life.
Mario produces his works almost in one go, at a fast and, at times, feverish pace. Corrado searches for silence, his creative flair emerges from intimacy and calmness and produces works of art looking at which one can get a brief respite from frenzied life.
---
About | Arxaia
Corrado Paolo D'Alessandro was born in Bovino (Foggia) on 16 February 1964. Mario Bernardini was born in Pozzo della Chiana (Arezzo) on 4 March 1948. Of different origins, Corrado Paolo and Mario met together to create a unique association they called Arxaia. Corrado Paolo comes from the city and is accustomed to intense relationships and openness to others; Mario comes from the wild countryside and is accustomed to contact with animals and nature. Corrado Paolo completed classical studies and obtained a diploma from the academy of art, custom and fashion; Mario finished a classic high school and a school of art and then completed his university studies in medicine and attended the academic world. They have a similar vision of painting, sculpture and ceramics: two different lifestyles that come together in a world of creativity and colour.  Corrado Paolo D'Alessandro's style is characterized by a refined and elegant expression that is the result of his education and training and that considers every single line as important as the entire work it is part of, while nothing is left to chance. Mario Bernardini's style is characterized by an earthly and monolithic expression with no frills, where the intensity of colours reveals a world of poetry that produces chromatic sensations. Currently, the association Arxaia carries out its artistic work in Foiano della Chiana and for several years it has managed its own permanent exhibition in the historic centre of Anghiari (Arezzo). Each year, the two artists take part in group and solo exhibitions in Tuscany and other Italian regions, where they exhibit paintings, sculptures, ceramics and art cribs.
---
VERNISSAGE. Meet the artists
Friday 26 July 2019 at 7:00 p.m.
OCRA Officina Creativa dell'Abitare
Via Boldrini 4, Complesso di Sant'Agostino – Montalcino (SI)
The opening tasting is offered by the farm "Il Paradiso di Frassina".
Il Paradiso di Frassina, an old farm dating back to the Middle Ages, is located a few kilometres away from Montalcino, in Tuscany, on the slopes of the hill Montosoli, in one of the best areas for the production of Brunello di Montalcino. The "Vigna di Mozart" is a unique place, where one can taste wine among the rows of vines that listen to Mozart's music. Those who visit Il Paradiso di Frassina feel gently caressed by Mozart's harmony spread all over the place by a hundred speaker placed among the rows of vines in pure ecstasy in nature… A paradise with music and vineyards. Spreading Mozart's music in the vineyards is not just a marketing trick to attract and amaze curious visitors. It is the result of serious and in-depth agronomy and oenology research into the beneficial effects of musical frequencies on vines carried out and supported by three university departments (Florence, Pisa and Arezzo), and sponsored by the prestigious BOSE Company US, one of the best audio equipment companies in the world. Mozart's music was chosen, because Mozart created the most therapeutic music for humans, thanks to its geometric elegance and its inimitable emotional involvement.
---

Info about exhibition
from Friday 26 July to Friday 16 August 2019 
Opening hours: 10.00 a.m. – 6.00 p.m. (from Monday tu Sunday)
Free entrance
OCRA – Officina Creativa dell'Abitare
+39 0577 847 065 | info@scuolapermanenteabitare.org
Ufficio Stampa Viola Grassenis | ufficiostampa@archos.it