sofia bracamontes | exploration
From 26 April to 17 May 2019, a selection of works by the Mexican artist Sofia Bracamontes are on display at OCRA Montalcino. An artistic path that interprets the themes of journey, chaos and light through oil painting techniques.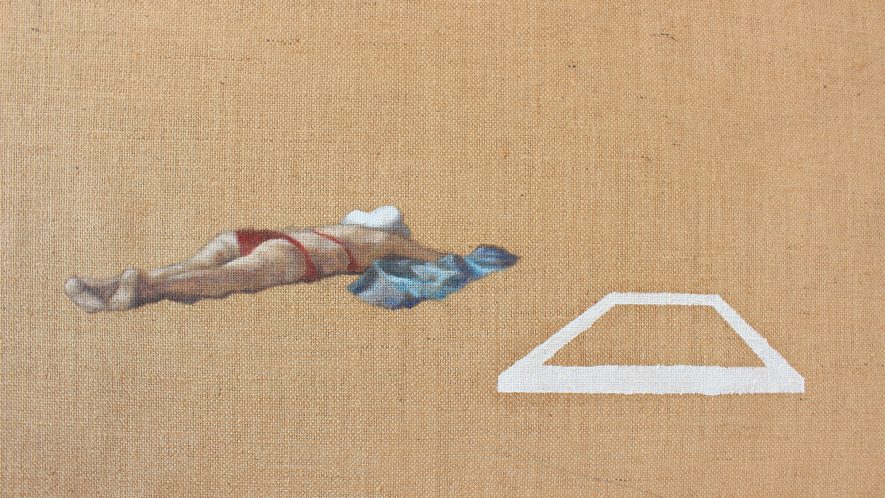 Sofia Bracamontes | Exploration
From Friday 26 April to Friday 17 May 2019
OCRA – Creative Workshop of Living
Via Boldrini 4 – Montalcino (Siena)
Under the patronage of the Municipality of Montalcino, the Scuola Permanente dell'Abitare presents Exploration, an exhibition of a selection of oil paintings by the artist Sofia Bracamontes. The exhibition has been set up in three halls of the Complex of Saint Augustine on a path of exploration that starts from the theme of journey and, through chaos, leads to light.
The title of the exhibition, Exploration, refers to a path of discovery of the unknown. Just like ancient explorers set out to discover other places without knowing what they would find, visitors are encouraged to venture into this new world: a world where the language of images changes and becomes something different from what we are used to in our everyday lives.
In this sense, the reinterpretation of images as means to transmit content acts as a reasoned critique of the prevailing cultural model of commodifying images (think of the logos of major brands). A model where evocative power does not culturally stimulate critical thinking, but in fact acts in the opposite direction, by encouraging people to immediately and mechanically consider images as material objects. Think of how images are used on social networks for basic and uncritical communication.
By creating images, Sofia Bracamontes searches for new possibilities and new perspectives that propose a different interpretation of figurative art. Her paintings are born from a dialogue between her observations, her research and her painting process. Her method uses neutral pictorial elements without connotations and recognized meanings: repetition, movement in space, shapes, dimensions, rhythm, scales, details, distance, patterns, and numbers.
Visitor are thus encouraged to reflect on themselves and on how to use figurative languages, interpret and speak through images.
---
About | Sofia Bracamontes
Sofia Bracamontes is an artist skilled in many disciplines, from painting to music. She is Mexican by origin and Italian by adoption. For years, she has lived in Montalcino, where she experiments with her artistic and cultural paths. She graduated in mathematical sciences in Mexico City in 2004 and then trained in architecture in Mexico City in 2007. She continued her studies in Paris at the École Spéciale d'Architecture the following year; in 2011, she graduated in art and design in London; finally, in 2014, she was appointed researcher in the field of fine arts. Among others, she held the following exhibitions: Dislocation, Institute of International Visual Art, London (UK), 2013; Big Space, Central Saint Martin's, London (UK), 2014; Raw Talent 2014, Dalston Department Store, London (UK), 2015; Colours at Night, Montalcino (Italy), 2015; Art Becoming, Art-House Gallery, Bagno Vignoni (Italy), 2016; Colors, Art-House Gallery, Bagno Vignoni (Italy), 2016; Indifference, EneganArt Contest 2018, Fortezza da Basso, Florence (Italy), 2018.
---
VERNISSAGE. Meet the artist
Friday 26 April 2019 at 7:00 p.m.
OCRA Creative Workshop of Living
Via Boldrini 4, Complex of Saint Augustine – Montalcino (Siena)
The opening tasting is offered by Podere Il Cocco, an organic-certified company that uses only organic, bioavailable and natural ingredients. The vineyards, in the centre of the Brunello production area, are favourably exposed south-east and are blown by sirocco and tramontana winds that help create a microclimate that prevents harmful vine diseases.
Info about the exhibition
From Friday 26 April to Friday 17 May 2019
Opening hours: 10:00 a.m. – 6:00 p.m. (Monday to Friday)
Free entrance
OCRA – Creative Workshop of Living
+39 0577 847 065 | info@scuolapermanenteabitare.org
www.ocramontalcino.it