Rikke Munkholm Laursen
Face to Face
From 27 April to 18 May 2018, OCRA Montalcino presents Face to Face, a collection of earth, clay and sand sculptures by Danish artist Rikke M. Laursen.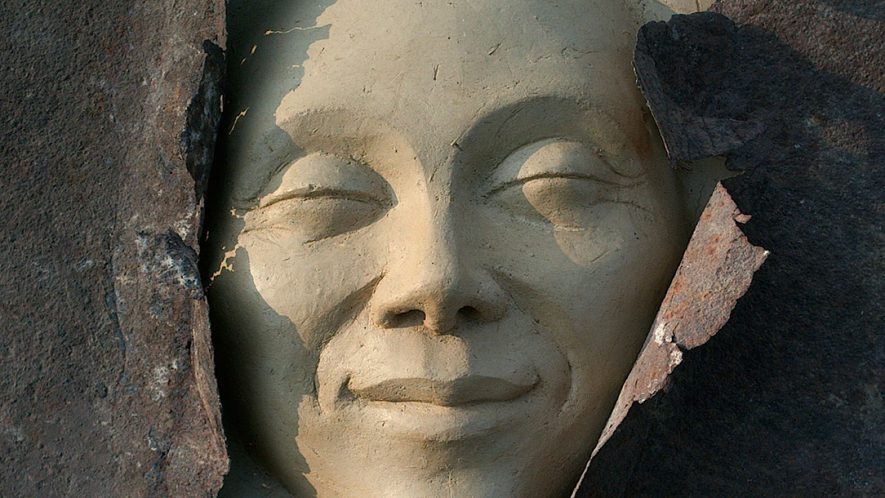 Rikke Munkholm Laursen | Face to Face
From Friday 27 April to Friday 18 May 2018
OCRA – Creative Workshop of Living
Via Boldrini 4 – Montalcino (Siena)
Under the patronage of the Municipality of Montalcino, the Permanent School of Living presents Face to Face, a collection of clay and earth sculptures on display in the halls of the Complex of Saint Augustine in Montalcino. In addition to the sculptures, a series of photographs of sand sculptures made by the artist by the sea in collaboration with Dutch landscape architect Bruno Doedens (SLeM.org) are exhibited.
"I think that the faces in raw earth, rather than being figurative objects, works of art or decorations that please the eye, are more like an opening, a question, or an answer… they talk without words about a very elusive detail", says Rikke Laursen about the faces she sculpts with passion and enthusiasm combining the essence of Scandinavian purity with Italian culture.
Both her two series, "Terra Cotta" and "Terra Cruda", are strongly inspired by the figurative, artistic and cultural variety of Italian history. Her faces blend with the context they are immersed in, they emerge from the context by taking materials, colours and scents from it. They change with time and depending on the light and atmosphere.
In her creations, the simplicity of Nordic lines is balanced by the warm richness of Italian materials; the role played by light plays an essential role in this combination.
Moreover, a particular abstraction emerges; as the faces do not have well-defined expressions and somatic features, each of us is free to interpret their emotions and identify with them.
Her work also focuses on the notion of time, the search for the moment where past, present and future merge: the immobility where tensions are resolved and harmony emerges.
The fact that her sand creations have a transitory nature adds a poetic touch to them, which appears and disappears before we can realize it.
"They turn to the empty space that is inside each of us, where the wind blows and thoughts flutter in a mixture of yesterday, today and tomorrow; it smells of something familiar, like a vague childhood memory; that place is time, it is life…!!"
About | Rikke Munkholm Laursen
Rikke Munkholm Laursen is a Danish artist. She has lived in Tuscany for more than twenty years. After her training in drawing and painting, she devoted her life to making sculptures from earth, clay and sand, materials typical of the Tuscan landscape. Rikke deeply believes in the strength of human energy and the positivity of everyone's intentions.
VERNISSAGE. Meet the artist
Friday 27 April 2018 at 7:00 p.m.
OCRA Creative Workshop of Living
Via Boldrini 4, Complex of Saint Augustine – Montalcino (Siena)
The opening tasting is offered by Podere Il Cocco, an organic-certified company that uses only organic, bioavailable and natural ingredients. The vineyards, in the centre of the Brunello production area, are favourably exposed south-east and are blown by sirocco and tramontana winds that help create a microclimate that prevents harmful vine diseases.
FINISSAGE. Artistic and cultural performance
Friday 11 May 2018 at 7:00 p.m.
OCRA Creative Workshop of Living
Via Boldrini 4, Complex of Saint Augustine – Montalcino (Siena)
During the event: meeting with the artist Rikke M. Laursen; poems by Kalyna Temertey Canta; monologue by the actor Stefano Lucarelli; PoeMologo by Sergio Lo Verde; presentation of works made from raw earth by Axel Deramaut; musical accompaniment by Corrado Re.
Info about the exhibition
Opening hours: 10:00 a.m. – 6:00 p.m. (from Monday to Friday)
Free entrance
OCRA – Creative Workshop of Living
+39 0577 847 065 | info@scuolapermanenteabitare.org