OCRA restarts
On Friday 24 March, Edoardo Milesi & Archos and the Permanent School of Living inaugurate the new activity year at OCRA Montalcino by presenting a rich programme of events, exhibitions, workshops, conventions and seminars.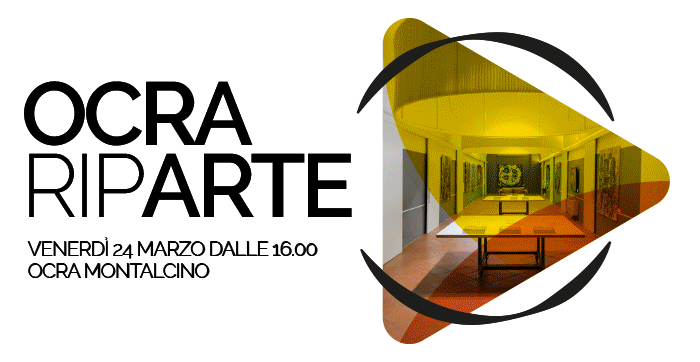 PROGRAMME
4:00 p.m. Welcome by Edoardo Milesi, Director of the Permanent School of Living.
4:15 p.m. Presentation of the works from the "MOS Student Residency" by Matter of Stuff: speeches by Simona Auteri and Sofia Steffenoni.
5:30 p.m. Francesca Bianchi, Curator of OCRA Creative Workshop of Living, and Giulia Anna Milesi from CDA Archos present the activity programme for the 2017 season.
6:30 p.m. Presentation of the ArtApp Artist Contest_The Door exhibition: speeches by Laura Cavalieri Manasse, Carlotta Monteverde, Giovanni Cutolo and Marco Milia.
On this occasion, visitors can admire the installations in the cloister by artist Marco Milia, whose research is based on the analysis of urban and environmental contexts with close interaction with the public.
After the event, an aperitif is offered by Collemassari at BistrOCRA, with music by Avenue Jazz Project with Luca Pace (piano), Massimo Pace (double bass) and Michele Sacco (tenor saxophone).
Wines: ColleMassari 2014, red – Melacce 2016, white – Grottolo 2016, rosé – Tenuta San Giorgio – Ugolforte – Brunello di Montalcino 2012 – Poggio di Sotto – Rosso di Montalcino 2014
---
FOR MORE INFORMATION
Scuola Permanente dell'Abitare
Via Valle del Muto 25 – Albino (BG) – Italy
tel. +39 035 772 499
info@scuolapermanenteabitare.org
OCRA – Officina Creativa dell'Abitare
Via Boldrini 4 – Montalcino – Italy
tel. +39 0577 847065
ocra@scuolapermanenteabitare.org