nolstalgia for energy
carlo cioni
From 27 July to 17 August 2018, OCRA Montalcino hosts an exhibition of Carlo Cioni's works, an immersion in the senses through his artistic creations arranged in cycles of interest, each of which represents a particular period of time and which express his artistical sensitivity mixed with curiosity, attention and contemporaneity.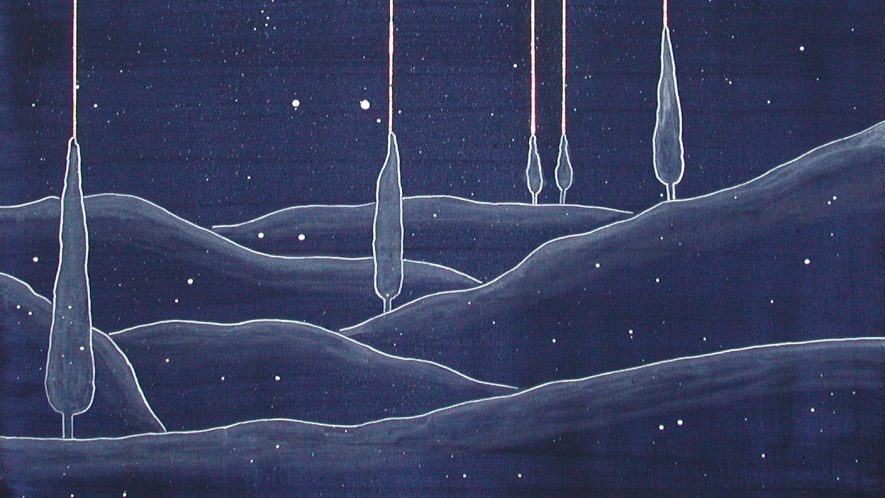 Nostalgia for Energy | Carlo Cioni's Artistic Journey
From Friday, 27 July, to Friday, 17 August 2018
OCRA – Creative Workshop of Living
Via Boldrini 4 – Montalcino (Siena, Italy)
With the patronage of the Municipality of Montalcino, the Permanent School of Living presents Nostalgia dell'energia (Nostalgia for Energy), a survey exhibition that aims to show the evolutionary process of learning by practicing art, as did the ancient alchemists, who transformed themselves while working on matter by consciously identifying with the creative energy from which everything is created.
The exhibition shows a summary of the stages of Carlo Cioni's artistic research and creation process by dividing his works into series, each of which represents a different period of time. Carlo Cioni's work cannot just be looked at: one has to immerse themselves in them, get involved, and let oneself be taken away on a journey of discovery. The aim is to have a complete vision of the world we live in, to obtain knowledge that allows us to live life with greater awareness and motivate our actions.
To understand the reasons that led Carlo Cioni to devote his life to artistic research, we need to read his writings and reflections, because for him the semantic value of words plays a primary, an essential role. His research originates from questioning archetypes that form the basis of human knowledge.
…Long is the journey that leads / to the sweet advent / abyss of silence / Time is still / it disappears / it goes away / no one knows where / Light dazzles / joy shines / without a reason
(Carlo Cioni, Un attimo eterno – An Eternal Moment, 2017)
Carlo Cioni's work is the result of sixty years of activity, it is like a tropical forest, thick and full of surprises; the modules and forms in his art are the most varied; he says: "Vision comes wonderfully easily to any project that is not restricted by logic or consistency. The viewer's gaze gently meets new aesthetics, where needs and pleasure do not depend on requirements determined by social conventions… (Notes on the journey back to the origins, 2015), but on cultivating curiosity and knowledge, which spur us to take part in the show of life."
…Adopting the necessary measures / to have access / to real reasons for living / This definitely is an attractive project.
(C. Cioni, Un attimo eterno – An Eternal Moment, 2017)
As philosopher Ernest Bloch remarked, "when the visible world seems to be collapsing and emptying, the resonances of the invisible world make an effort to become images… in the crystal forest of the ego". Carlo Cioni goes in search of visual morphologies and archetypes, he creates rhythm with numbers, signs and measures. On many of his intentionally monochrome surfaces, the Florentine artist questions the power of darkness, of the dark, that is to say the power of creating forms from "emptiness", thus unknowingly relating to Giorgio Agamben's writing from 2008: "to be contemporary means to be able to firmly hold one's gaze on darkness, but also to perceive a light in darkness, a light that disappears indefinitely, if it is directed towards us".
One of Carlo Cioni's favourite themes has always been the search for a "different language", a language that sometimes is more related to graphics and literature than to painting. This is why I often argue that writing and painting are two opposite poles unique to the Florentine artist's work. His canvases, which are often reminiscent of screens, especially in the series called "delle cose fuori" (of things outside, from Anaximander's evocative and enigmatic fragment), throw open the doorway to an abyss of contemplation within the walls surrounding the images, which are rewritten in the timeless language of hieroglyphics (see F. Bartoli, La forma dell'invisibile – The Form of the Unseen, catalogue of Carlo Cioni's exhibition in Ferrara, 1983, page 8).
This is why Carlo Cioni's journey on canvas, paper, wood and metal is often characterized by word inserts, trying in vain to keep up communication with experiences that nevertheless cannot be described with words but only with shorthand symbols for the unspeakable; in fact, as Henri Bergson, who has been cited by Carlo Cioni, said, there are two different ways to know something, the first is to go around it (according to Carlo Cioni, this way leads to mere simulacra), the second is to go inside it (Marco Montori).
---
About | Carlo Cioni
Carlo Cioni was born in 1930 in Florence, where he worked until 1993, when he moved to Chianti in constant search of more favourable conditions for an "alternative" process where art and meditation could coexist to serve knowledge. His artistic training began back in the fifties, when he regularly visited the Numero Gallery directed by Fiamma Vigo, where he made experience in an international context open to new ideas. Carlo Cioni then established a close relationship with some young Florentine artists and writers, including Sergio Salvi, Antonio Bueno, Silvio Ramat, Eugenio Miccini, Giuseppe Chiari and Lamberto Pignotti, together with whom he later formed the first "Group Seventy".
He began exhibiting in 1961 (to date, he has held over 60 solo exhibitions) and from that moment on, he has taken part in all events of the Numero Gallery. In 1965, he participated in the editing of the magazine "Documenti di Numero" (Numero's Documents) and joined the group "Set di Numero" (Numero's Set).
In 1966-67, he took part in the exhibitions organized by the Roman magazine Arte Oggi (Art Today) directed by Guido Montana and published by the Espresso company group. At the end of the sixties, he began working with the gallery "Il Fiore di Corrado Del Conte", which from then on started staging new art exhibitions on a regular basis. In those years, Carlo Cioni held an exhibition at the gallery Arte Centro (Art Centre) in Milan, with which he worked for many years. Around 1975, he resumed working on canvas with research based on the nature of time (The motionless pendulum). In 1977 and 1978, he was a member of the editorial staff of the Florentine magazine Visual, and in 1979 he took part in the first international artists convention in Bologna. In 1985, he held a survey exhibition at the Palazzo Vecchio (Old Palace) in Florence, and in 1986 he took part, with a group of works, in the art and alchemy exhibition organized by Arturo Schwarz at the Venice Biennale.
www.ilpendoloimmobile.blogspot.com
---
VERNISSAGE. Meet the artist
Friday 27 July 2018 at 7:00 p.m.
OCRA Creative Workshop of Living
Via Boldrini 4, Complex of Saint Augustin – Montalcino (Siena, Italy)
Initial tasting offered by farming company Fonterenza
The old farm Fonterenza is a place full of memories. It is located about 2 km from the town of Sant'Angelo in Colle, in the southern part of the Municipality of Montalcino, and it got its name from the water spring under the hill on which it is located. At Fonterenza, the working and research process has been combined with organic farming and, later on, with biodynamic farming, in constant search of a balance with the cultivated land: a way of living and working that is also perceived as an obligation to future generations.
This date marks the beginning of an adventure where we personally started taking care of the vineyard vine by vine, learning from our daily work and from the exchange of ideas with other large and small producers from this and other areas. This constant dialogue has continued on every occasion, while focussing on different cultivation methods, climate, traditions, the market, the future of viticulture, etc.
A careful agronomic practice that respects the natural balance of plants and the earth has led us to apply the same approach to grapes and their processing. We consider ourselves producers of "natural wine", a term that is much discussed today but that explains the philosophy behind our work in a simple way: wine is the result of the land on which we grow our vines, of trends in seasonal climate, and of the choices we make from time to time, without forcing procedures in the vineyard or in the cellar, so as to preserve the unique characteristics of each vintage. Therefore, each wine has its own personality and its own history, as well as its own different way of telling about itself.
www.fonterenza.it
Information about the exhibition
Opening hours: Monday to Friday from 10:00 a.m. to 6:00 p.m. (except for public holidays)
Free entrance
OCRA – Creative Workshop of Living
+39 0577 847 065 | info@scuolapermanenteabitare.org
www.ocramontalcino.it