nello catarcia
organ concert
On the occasion of the finissage of Alessandro Vignali's solo exhibition, organist Nello Catarcia gives an organ concert with a selection of pieces by Bach, Langlais, Vivaldi and Liszt at the Creative Workshop of Living.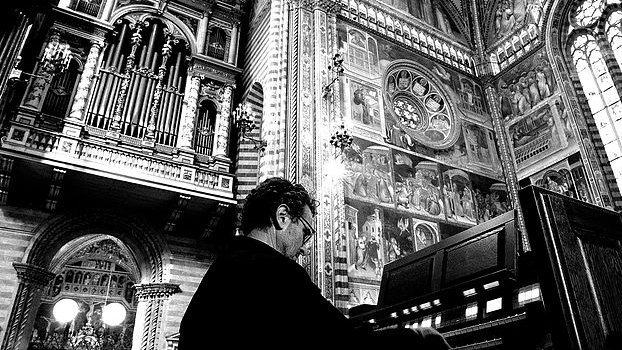 OCRA Montalcino (Siena) | FREE ENTRANCE
Friday 15 April 2016 at 5:30 p.m.
Programme
S. Bach: Toccata, Adagio and Fugue in C major (BWV 564)
Langlais: Hallelujah
Vivaldi – J. S. Bach: Concert in A minor*
– Without tempo indication
– Adagio
– Allegro
Liszt: Prelude and Fugue on B.A.C.H.
*from the Concerto for two violins and orchestra op. 3 number 8
---
About | Nello Catarcia
Nello Catarcia studied piano with Maestro Umberto De Margheriti and at the same time he studied organ and completed his organ training with Maestro Fernando Germani. He obtained a diploma in piano from the Conservatory Francesco Morlacchi in Perugia and a diploma in organ and organ composition from the Conservatory Gioacchino Rossini in Pesaro. He taught theory, solfège, musical dictation and score reading at the composition course at the Conservatory of Perugia.
Since 1969, he has been the organist of the Cathedral of Orvieto. He has given concerts in Italy and abroad, made recordings for the BBC and collaborated as an organist with the RAI Orchestra in Rome, for which he has also worked as a substitute Maestro.
Being interested in contemporary music, he recorded a disc with music written by Gian Paolo Chiti and Gianfranco Pernaiachi specifically for the organ of the Cathedral of Orvieto. In 1979, together with the Councillor for Culture, Adriano Casasole, he founded the Municipal School of Music, where he worked as a teacher and director.
During those years, he devoted his life to directing operas including Dido and Aeneas by H. Purcell, Orpheus and Eurydice by C. W. Gluck, The Barber of Seville by G. Rossini, Cavalleria Rusticana by P. Mascagni, Noye's Fludde by B. Britten, Anadiomene by R. Laneri, Carmen by C. McLeod, Joseph and the Amazing Technicolor Dreamcoat by A. L. Webber.
He has composed original music for documentaries directed by Giancarlo Pancaldi and broadcast by RAI as part of Geo & Geo.