matteo berra
inthestonestone
From Thursday 20 July 2017, artist Matteo Berra stays at OCRA Creative Workshop of Living, in the cloister of the Complex of Saint Augustine, to create the work "In the StoneStone".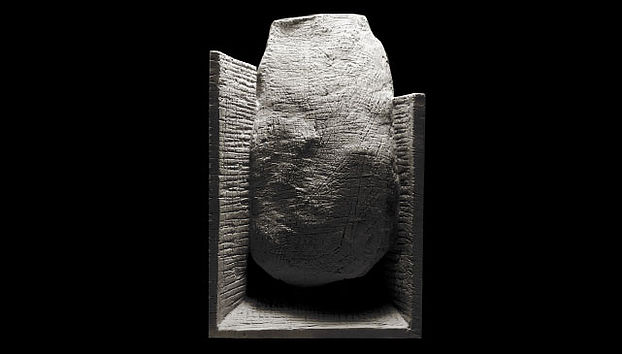 Matteo Berra | INTHESTONESTONE
OCRA Creative Workshop of Living – Montalcino (Siena)
Thursday 20 July 2017
The sculpture representing a stone, a stuck and suspended boulder, aims to encourage reflaction on the relationship between and the nature of two sister disciplines, namely sculpture and architecture. Paradoxically, the shape of the boulder was cut out form the same material it is made of, with intentional redundancy. The action of mankind forcing the natural object to assume a new shape by changing its form is thus highlighted.
The new carved stone is suspended, imprisoned and yet free from its weight and from the architecture that supports and yet binds it. The work therefore represents various aspects: the ambiguous result of humans affecting the environment; the relationship between art and architecture; and the borderline between representation and action. The style of the sculpture is deliberately rough and harsh, while the architectural element is rudimentary and functional, and has no aesthetic function.
About | Matteo Berra
Matteo Berra was born in Milan in 1977. He first had a scientific education and then obtained a specialist degree in sculpture at the Brera Academy of Fine Arts. While he was studying at the Brera Academy, he attended the National Academy of Athens and UCLA in Los Angeles as an exchange student. He then worked as a tutor for the sculpture course at the Brera Academy, as a consultant to various artists, and an assistant to sculptor Giancarlo Marchese, while building his artistic career. From 2011, he was a lecturer at the Catholic University of Daegu in South Korea for four years. Then he moved back to Italy, where he began to successfully work with architects on projects according to which sculptures should be integrated and coexist with the architecture where they are located. He also started working with Officina della Scala, a luxury interior design studio, to create Meteorite, a sculpture table. At the same time, he continued building his artistic career by working with galleries in Milan and New York. He began exhibiting in galleries and museums in Europe, Asia and the United States in 2000. In 2001, he won the Tenchio Prize in Como and in 2011, he won the First Prize at the Busan Sea Art Festival in South Korea.
INFO
Matteo Berra "In the Stone"
Carved sandstone
Approximately 230X150X70 cm
From Thursday 20 July 2017
OCRA – Officina Creativa dell'Abitare
Via Boldrini 4 – Montalcino – Italy
tel. +39 0577 847065
ocra@scuolapermanenteabitare.org
www.scuolapermanenteabitare.org