jürgen dahlmanns
evolution
The surprising installation of contemporary carpets designed by Jürgen Dahlmanns and handmade in Nepal and Rajasthan representing the different collections that have marked the Dutch designer and architect's artistic production in recent years is on display at OCRA Montalcino. The installation represents a journey through Dahlmanns's life and passion for carpets designed through the ancient art of manual knotting and modern design.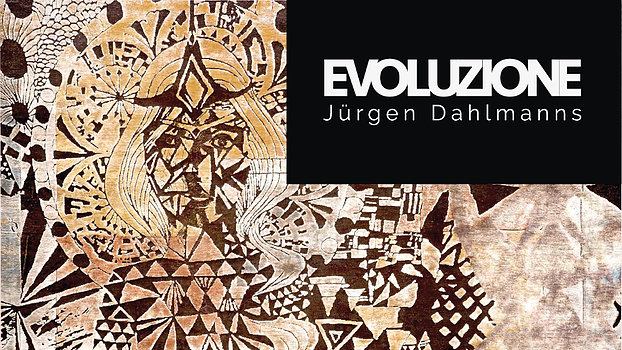 EVOLUTION by Jürgen Dahlmanns
OCRA Creative Workshop of Living – Montalcino (Siena)
Vernissage on Friday 28 April 2017 at 6:00 p.m.
Each item on display represents the emotions the designer has experienced and the experiences he has had in the last fifteen years. in fact, in 2002, Jürgen decided to change his life as an established architect to make his dream of designing contemporary carpets come true.
Dahlmanns explains that creating movement in the patterns is the biggest challenge:
"Only by knowing every little detail of the manufacturing process, I have been able to combine the different manual steps necessary to achieve completely unexpected effects that are the hallmark of each of my collections… and the colour represents the emotional state of my carpets.
The designer's collections combine the modern languages of art and design with ancient textile traditions.
About | Jürgen Dahlmanns
Jürgen Dahlmanns was born in 1967 in a Dutch town near the German border.
After a few years, he moved to Berlin, where he finished his studies and graduated in architecture.
In 1998, he moved to Vienna to design the largest museum ever built in Europe, the Museumsquartier. After three years as the design manager of the construction site, he returned to Berlin. He gave up his prestigious position when he realized that he could no longer combine his ethics with the economic and political interests that were imposed on him.
During his first trip to Nepal, he climbed up the Annapurna Massif at 8000 meters and there he had a meeting that changed his life: on the way back, he noticed an old Tibetan carpet that struck him. From that moment, he began to travel more and more often between Nepal and China in search of other products that would inspire his new passion. Jürgen decided that his love for Tibetan carpets would become his profession and in 2002, he founded Rug Star. The workshop in Nepal developed to the point of becoming the social and economic structure of the small Nepalese village. About 400 people are employed in the activity.
A school and a hospital have been built in the village using part of the proceeds from Rug Star. Jürgen has also joined Good Wave, an association that fights for children's rights against the exploitation of children. Today, Rug Star consists of a team working closely with Jürgen at the Berlin headquarters, textile operators in Nepal, Rajasthan and China, and several entrepreneurs who have opened brand shops around the world.
Microcosms connected to each other, which combine different skills to contribute to creating and promoting collections of carpets.
This eclectic Berlin designer has come a long way and in a short time he has revolutionized the traditional concept of Oriental carpets, transforming them into artistic element by combining their functionality as furnishing accessories with the emotion conveyed by the patterns through their particular features and colours.  www.rugstar.it )
The opening tasting is offered by Podere Forte, a farm located in Castiglione d'Orcia, a Tuscan town in the beautiful setting of Val d'Orcia.
Podere Forte stretches over an area of 278 hectares where an ancient cortes romana has been recreated: a multifunctional farm where people, plants and animals contribute to creating an integrated, self-sufficient and sustainable macrocosm. A hymn to biodiversity.
Vines, olive groves, woods and gardens represent the exclusive wealth of the farm, which is reflected in the production of wines, extra virgin olive oil, honey and wheat.
Its livestock include a valuable variety of animals, such as Cinta Senese pigs, Chianina cows and Suffolk sheep. The farm applies agricultural techniques based on biodynamics: it aims to support the seasonal processes of nature, to make the soil increasingly fertile, to preserve the well-being of people through a healthy diet, and to ensure continuity of the ecosystem. All the produce of Podere Forte is labelled Demeter, a brand that guarantees that the farm uses biodynamic techniques. ( www.podereforte.it )
We would like to thank Paesaggistica Toscana for setting up the plants and Telmotor for their help with the lighting.
The exhibition is open until 19 May 2017
Opening hours: from 10:00 a.m. to 5:30 p.m.
Free entrance
FOR MORE INFORMATION
Scuola Permanente dell'Abitare
Via Valle del Muto 25 – Albino (BG) – Italy
tel. +39 035 772 499
info@scuolapermanenteabitare.org
OCRA – Officina Creativa dell'Abitare
Via Boldrini 4 – Montalcino – Italy
tel. +39 0577 847065
ocra@scuolapermanenteabitare.org