giorgio milesi
graphic works and writings
From 20 April to 6 May 2018, under the patronage and with the contribution of the Municipality of Bergamo, the Permanent School of Living presents "Giorgio Milesi. Graphic Works and Writings", a collection of zinc etchings, novels, fairy tales and stories.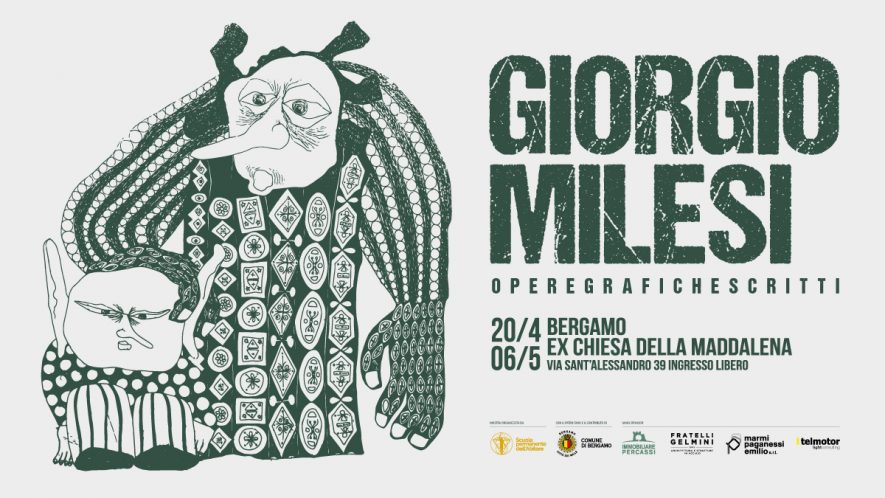 Friday 20 April at 6:30 p.m., under the patronage and with the contribution of the Municipality of Bergamo, the Permanent School of Living presents "Giorgio Milesi. Graphic Works and Writings", an exhibition at the former Church of Mary Magdalene in Via Sant'Alessandro in Bergamo.
The exhibition features graphic works (zinc etchings), novels, fairy tales and stories by artist Giorgio Milesi from Bergamo. In addition, a 50-minute film will be shown with testimonies from old friends and acquaintances.
In the year of his would-have-been ninetieth birthday and ten years after his death, the exhibition offers a perspective on Giorgio Milesi's vast and eclectic artistic production. From engravings, etchings, acrylic paintings, drawings, etc. to literary production, including fairy tales, tales, novels and serio-comic travel chronicles. A dive into the fairy-tale microcosm he created between surreal and grotesque figures, whimsical characters, mysterious underground worlds, insects, animals and plants, the result of his past studies and now presented from the perspective of his wild imagination. Between illusion, dream and reality, from where his very British irony but also his deep and delicate sensitivity emerge.
The exhibition layout and catalogue are by the architect Edoardo Milesi and his collaborators.
About | Giorgio Milesi
(Bergamo, 27 October 1927 – Gorle, 5 April 2008) Giorgio Milesi was many things. After he graduated from the high school "Paolo Sarpi" in Bergamo, he enrolled in the Faculty of Agricultural Sciences at the University of Milan, where he graduated four years later with a thesis "as experimental as unlikely" entitled: The influence of vitamin E on chicken fattening. When he realized that after all he was not much interested in shrubs, poultry and similar things, he devoted his life to studying English and obtained a second degree in Foreign Languages and Literatures from the Bocconi University in Milan. This time, he presented a thesis on John Masefield, a minstrel at the court of Saint James who had fallen into oblivion together with his vast production of essays, poems and comedies.
For a short time, he worked as a correspondent with some local newspapers and then he devoted his life to teaching English. He authored numerous writings about language, both from Italian to English and vice versa. He was curious and light-hearted and dedicated his life to pursuing his most varied interests. He was passionate about art, printing and ancient graphics, he wrote some fundamental texts that were reprinted several times, such as the Dictionary of Engravers for the publishing company Minerva Italica, with which he worked for a long time, while the publishing company Book published his following works: History of Ancient Printing. From the Fifteenth Century to the Early Nineteenth Century, History of Prints in the British Isles. From the Sixteenth Century to the End of the Nineteenth Century, Masters of Caricature. From the Sixteenth to the Twentieth Century.
VERNISSAGE
Friday 20 April 2018 at 6:30 p.m.
Former Church of Mary Magdalene
Via Sant'Alessandro, 39 – Bergamo
The opening refreshment is offered by Osteria dell'Albachiara
www.osteriadellabachiara.it
Info about the Exhibition
From Friday 20 April to Sunday 6 May 2018
The exhibition is open from Wednesday to Saturday from 4:00 p.m. to 7:00 p.m.;
Sundays and holidays from 10:00 a.m. to 12:00 noon and from 4:00 p.m. to 7:00 p.m.
Free admission – catalogue on display
Associazione Scuola Permanente dell'Abitare
Via Valle del Muto, 25 – Albino (Bg) – Italy
+39 035772499 | info@scuolapermanenteabitare.org