giancarlo defendi
the etruscan from bergamo
From 28 July to 13 August 2017, timeless evocative sculptures by Giancarlo Defendi, metaphysical symbols, arcane figures from a mythological, epic or archaic past, are on display at OCRA Montalcino as part of the OCRA Fridays series.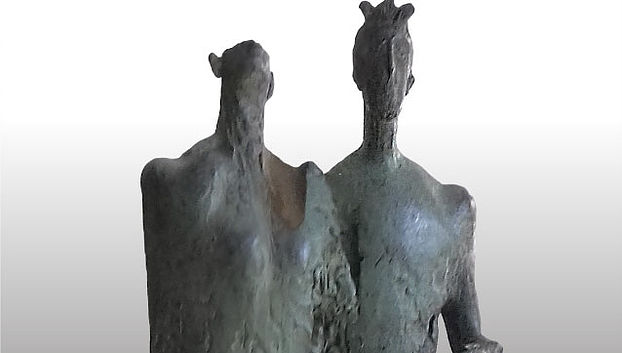 Giancarlo Defendi | THE ETRUSCAN FROM BERGAMO
OCRA – Creative Workshop of Living – Montalcino (Siena)
Friday 28 July 2017 at 7:00 p.m.
"(…) When he was very young, Giancarlo Defendi attended the workshops of true masters, first Costante Coter and then Elia Ajolfi, from whom he learned the secrets of an elaborate craft. They taught him the rules of sculpture: modelling clay, casting objects, melting, patinas, casts and chisels.
They taught him how to look at ancient sculptures and contemporary sculptures in the same way: through expert and curious eyes paying close attention both to contemporary works and works from the past, wise and critical eyes, capable of making conscious judgements based on deep knowledge of the craft.
Today, after thirty years of activity, it can be said that Defendi has become a self-taught "master" thanks to his great technical awareness of his craft, his mastery of the creation procedures involved, his profound knowledge of the craft thanks to which he has become a valuable point of reference for younger generations. (…) The common features of his sculptures are technical aspects that make up the dimension covered by the great variety of the themes he deals with, which are sometimes classical and sometimes more intimate and reserved, sometimes epic and sometimes narrative, sometimes based on a purely plastic inspiration and sometimes extremely descriptive. However, most of all, Giancarlo Defendi's works are characterized by technique, which his works focuses on as if it were his actual single main theme. The quality of his works is determined by the clarity of his execution and his control of the processes involved. Through such clarity, the manual and gestural nature of creation is converted into images, while his technical formulas are converted into artistic forms.
He approaches and creates many of his sculptures with simple gestures and lively modelling from which surprising creations emerge. Sometimes, the common feature of his works is the epic and violent nature of the almost mythological plastic image that emerges. His figures always seem to exist in a timeless dimension, almost as if they were metaphysical symbols, arcane figures expressing the dramatic existential solitude of human beings.
He sculpts mythical and disturbing characters that exist in a desolate or threatening dimension that emphasizes this feeling of restlessness. However, precisely these emerging enigmatic figures represent Giancarlo Defendi's most significant images, the incisive and paradigmatic simplicity of which highlights the successful combination of classical and archaic forms.
His modelling gestures do not only have declaratory and expressionist strength, they create tension, rhythm and plastic value. Giancarlo Defendi's sculptures express all their complexity and show all their evocative force precisely through this tension between the dramatic plasticity of the image and the accurate unity of the form.
His works are born within this tension, which combines tradition and modernity, and which intensely animates all his figurative creations."
Attilio Pizzigoni
About | Giancarlo Defendi
Giancarlo Defendi was born in Bergamo in 1946. In 1967, he graduated from the art school in Cantù and since 1969, he has taught sculpture at the state art school in Bergamo. His main solo exhibitions include: 1983 Volksuniveriteit Westzeedijk, Rotterdam, Netherlands; 1984 San Paolo Gallery, Bologna; 1990 Routes through Art, Brembate Sopra, Bergamo; 2001 Ciribelli Gallery, The Westin Palace, Milan. His main group exhibitions include: 1995 Altalinea, Noiss, Germany; 2001 Collective Exhibition of Eight Sculptors from Bergamo, Municipal Hall, Villa di Serio, Bergamo.
The opening tasting is offered by the farm Col d'Orcia, which literally means "hill overlooking the river Orcia", which marks the southwest border of the area where Brunello di Montalcino is produced. The name of the company therefore has to do with the area where the vineyards are planted from which refined Brunello is made. The mission of Col d'Orcia is to produce the best wine from the exceptional combination of the soil and climate of this area of Montalcino. For many years, Col d'Orcia has attached great value and paid particular attention to the natural environment where it operates. For this reason, in 2010 the process was started to obtain the organic certification and thus make the company the largest organic winery in Tuscany. Since August 2010, only organic farming practices are used in the entire estate, including vineyards, olive groves, arable land, and even the park and gardens. (www.coldorcia.it)
INFO ABOUT THE EXHIBITION
Giancarlo Defendi THE ETRUSCAN FROM BERGAMO
Inauguration:
Friday 28 July 2017 at 7:00 p.m.
The tasting is be offered by the company Col d'Orcia
Exhibition open until 13 August 2017
Opening hours: 10:00 a.m. – 5:30 p.m.
OCRA – Creative Workshop of Living
Via Boldrini 4 – Montalcino (Siena)
Free entrance
FOR MORE INFORMATION
 
OCRA – Officina Creativa dell'Abitare
Via Boldrini 4 – Montalcino – Italy
tel. +39 0577 847065
ocra@scuolapermanenteabitare.org
www.scuolapermanenteabitare.org