franca marini
transnational migration and immigration

At OCRA Montalcino, Franca Marini's installation created for the Human Rights Institute at Kean University in New York is again on display in the Cloister of St. Augustine from Friday, 9 November, on the occasion of the series of events "Non ho paura dell'uomo nero" ("I don't fear the black man").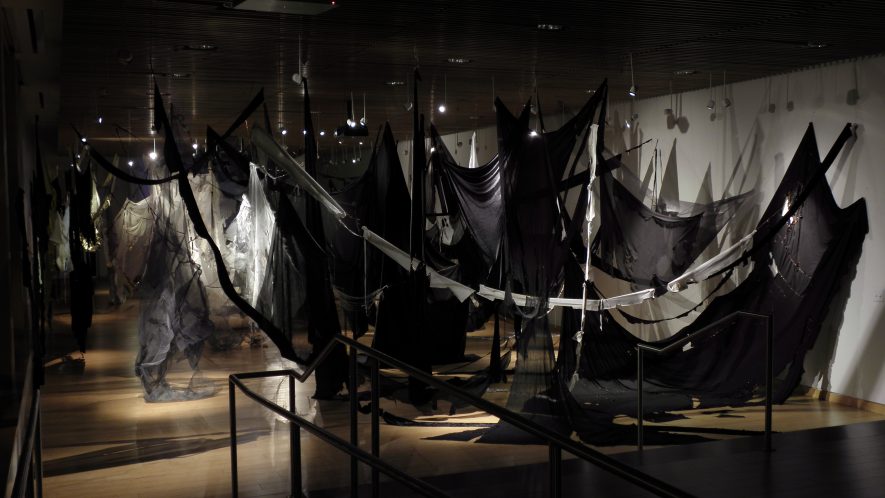 Franca Marini | Transnational Migration and Immigration
From Friday 9 November to Friday 30 November 2018
OCRA – Officina Creativa dell'Abitare
Via Boldrini 4 – Montalcino (Siena)
With the patronage of the Municipality of Montalcino, the Scuola Permanente dell'Abitare presents "Transnational Migration and Immigration" created for the Human Rights Institute at Kean University, Union, N. J., in February 2018.
The work will be reinterpreted and set in the new context by its author in the 16th century cloister of Saint Augustine, and it will be the backdrop to the series of events "Non ho paura dell'uomo nero" ("I don't fear the black man"), scheduled to be held in November at OCRA Montalcino.
According to the author, this installation represents not only the journey of hope that millions of migrants are forced to undertake in search of a new life, but also the inner journey of transformation that every man and woman may have to undertake to overcome and leave behind what prevents them from being fully human. Such transformation cannot take place without meeting and accepting differences and the scary unknown – i.e. the danger that migrants represent in the collective imagination of our society – and it implies acknowledging that we share the same humanity, without which creating a different and more just world is not possible.
Remains of what was once a shelter, and fragments of everyday objects caught in torn nets or as if they were floating adrift after a shipwreck create a scenography that recalls a sense of loss and being torn. From a lifeless desert landscape, visitors are led along a path to encounter the faces of those men and women who defied death.
On the day of the inauguration, Friday, 9 November, at 07:00 pm, the video "A new life" is also presented. The video features first-person accounts from migrants from different countries, some of which were collected by the artist in 2016 in Riace, a town that has become a worldwide symbol of integration and hospitality.
---
About | Franca Marini
I believe that art is a tool capable of establishing a relationship between a deep unconscious dimension and the outside world: capable of creating a bond, a state of resonance with others.
Images of art are complex representations. The more elaborate they are both in terms of form and content, the higher their artistic value and their expressive and communicative power.
Franca Marini, San Francisco, 1990
Franca Marini is an Italian artist with an international background. She was born in Siena, where she was awarded her diploma in arts with full marks at the Arts High School Duccio di Buoninsegna. She then graduated in Painting at the Academy of Fine Arts in Florence with full marks and honours. After completing her academic studies, she continued her artistic training: she attended a course in drawing and sculpture at the Verrocchio Art Centre in Casole d'Elsa (Siena), and a painting course at the art school The CityLit in London. From 1985 to 1987, she made many study trips to Europe's main capitals: Amsterdam, Paris, Brussels, Barcelona, Madrid, London, Edinburgh, Munich and Athens. Then, from 1988 to 1990 she visited Oslo, Bergen, Stockholm and Berlin.
At the end of the eighties, she went to the United States, where she was determined to improve her artistic skills and to start a career as an artist. After attending the painting school at the Fort Mason Art Center in San Francisco, she attended the San Francisco Art Institute, one of the United States' state-of-the-art schools of art, where she measured herself against radical and innovative artistic currents in American culture. In 1991, she moved to New York, where she lived for about 10 years. After spending many years training in painting, in 2005 she started creating site-specific installations and videos in which she dealt with metropolitan contexts and social issues related to human rights. Her works are in public and private collections in Italy, Costa Rica and the United States. Among her many solo and group exhibitions, the following are worth mentioning: the Interior Landscapes Elizabeth Harris Gallery, New York (1996), San Francisco Museum of Modern Art Artists Gallery, San Francisco (1998), Reconstrucción en rojo Nuevas Obras Galería Nacional, San José, Costa Rica (2005), Universal Language Queens College Art Center, New York (2009), TEXT-o-&-figure Galería Nacional, San José, Costa Rica / Meridian Gallery, San Francisco (2010) / Fabula Urbis, Lisbon (2011), De Colección, Museo de Arte y Diseño Contemporáneo, San José, Costa Rica (2011-12), Gestos Mary Chacon Contemporáneo, San José, Costa Rica (2014), Brujas pero tambien brujos Aglutinador – Brücke, Havana (2014), Visions from the metropolis – artistic research between urban life and early renaissance imagery, Karl and Helen Burger Gallery, Kean University, Union, N. J. (2017). Her main video screenings include: SonoMACLab Museo de Arte Contemporáneo de Puerto Rico, San Juan, Puerto Rico (2010), Cosa es lo humano? Museo della Preistoria del Monte Cetona, Cetona (2012), Visionaria International Film Festival, Siena (2015), P21 gallery, London (2015), Al Ard Doc Film Festival, Cagliari (2016).
---
VERNISSAGE. Meet the artist
Screening of the video "Una vita diversa" (A Different Life)
After the screening, aperitif and music from Togo by Kossivi Sodja
Friday 9 November 2018 at 7:00 pm
OCRA Creative Workshop of Living
Via Boldrini 4, Complex of Saint Augustin – Montalcino (Siena)
On the occasion of the Vernissage, the artist presents her installation. Then, musician Kossivi Sodja gives a percussion performance with a djembe drum, while an aperitif with typical dishes from Togo is offered all the while.
FINISSAGE. Meet the artist
Monologues from "Il Teatro Reportage" (The Reportage Theatre) by and with Annet Henneman
Friday 30 November 2018 at 7:00 pm
OCRA Creative Workshop of Living
Via Boldrini 4, Complex of Saint Augustin – Montalcino (Siena)
The finissage is an opportunity to draw conclusions on the work carried out in November through a contemporary performance where actress Annet Henneman gives a monologue from "Il teatro reportage" (The Reportage Theatre). For more than twenty years, the "The Reportage Theatre" project has aimed at bringing the lives of people living in conflict areas, in oppression, closer to us and the Western world. The backdrop to this event is "Transnational Migration and Immigration", thus creating an intense interaction between Franca Marini's installation and the stories, songs, dances and lives into which Annet Henneman takes us through her monologue.