designing landscape
Exhibitions and debates to examine the dynamics involved in the changes in the area, the natural environment and the built area from different angles and perspectives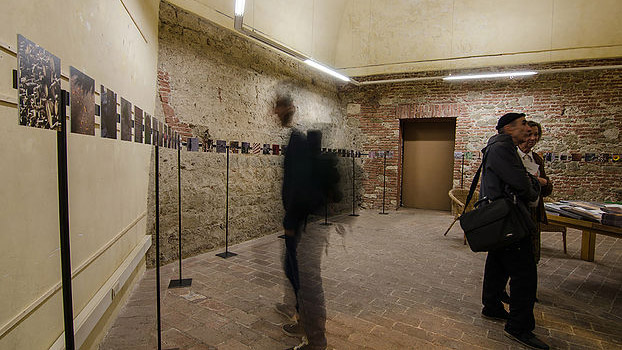 DESIGNING LANDSCAPE, the project proposed by the Permanent School of Living with the support of the Bertarelli Foundation and Collemassari on the occasion of the Week of Beauty (15-24 October 2016) organized by the Diocese of Grosseto with the daily newspaper Avvenire, the magazine Luoghi dell'Infinito and the Crocevia Foundation and in collaboration with the City of Grosseto, was very successful with the public.
The exhibitions "Edoardo Milesi. DESIGNING LANDSCAPE", "Mauro Davoli. Mirabilia Naturae" and "Andrea Mastrovito. Under the Banner of Mercy", conceived by Foundation Crocevia and curated by Giovanni Gazzaneo, and the convention DESIGNING LANDSCAPE, in collaboration with the Order of Architects, Urban Planners, Landscape Architects and Heritage Preservers of the Province of Grosseto and with the Board of Surveyors and Graduated Surveyors of the Province of Grosseto, examined the dynamics involved in the changes in the area, the natural environment and the built area from different angles and perspectives.
"Edoardo Milesi. DESIGNING LANDSCAPE" (Fortezza Museo del Cassero Senese) features twenty-five projects carried out in Maremma from 1999 to the present day that have contributed to redeveloping the poorest area in Southern Tuscany thanks to places of work, such as the Colle Massari wine cellar, places of faith, such as the Monastery of Siloe, and places of culture, such as the Bertarelli Foundation Auditorium.
In the photographs of the exhibition "Mirabilia Naturae", Mauro Davoli (Casette Cinquecentesche Cassero Senese) presented fragments of everyday life, gifts of nature or products of people's work, freshly cut flowers, shells collected in the seas around the world, books and small objects, silent witnesses of centuries of conviviality, chatting, silence, looks. A beauty that shows itself in a pure form, absolute and humble at the same time, and that reflects the interiority of the world and nature.
In his exhibition "Under the Banner of Mercy", Andrea Mastrovito (Casette Cinquecentesche Cassero Senese) interpreted and illustrated the works of mercy through the art of drawing and an incisive and direct language. The exhibition represented the world hanging by a thread, which shows itself in everyday gestures that become mercy: bandaging wounds, creating bridges, throwing strong ropes.
During the convention DESIGNING LANDSCAPE, Leonardo Servadio, Marco Del Francia, Giordano Gasperoni and Giulia Anna Milesi analysed the role of architecture in landscape, while keeping in mind that the value of culture and knowledge is not temporary but eternal.
"The ability to interpret sensations and desires, which are often unconscious, and convert them into a projection (pro-jecto) or a visionary projection is only part of the architect's task. Being able to become part of the project and create the conditions for the dream to come true transforms the artist into an architect. The artist can afford to limit their activity to submitting a utopian proposal, while the architect must implement it through a shared process, so that their client can definitively profit from it. The architect makes utopias come true by transforming spaces into places where relationship are built; by keeping in mind that space, its shape, its materials, its light, the sounds it contains and produces affect our behaviour; by using forms, colours, smells and memory evoked by the aforementioned elements. Controlling these physical and inner places is an architecture tool, to control them gives us power and responsibility. To the architect, to propose a utopia is to find a desirable and pragmatically achievable way." (Edoardo Milesi)
---
Scuola Permanente dell'Abitare
Albino (BG) Via Valle del Muto 25
+39 035 772 499 info@scuolapermanenteabitare.org