christine persson | vibrations
From 31 August to 21 September 2018, the works of Christine Persson, a Swedish artist naturalized in Tuscany who devotes her life to art, nature and inner research, are on display at OCRA Montalcino.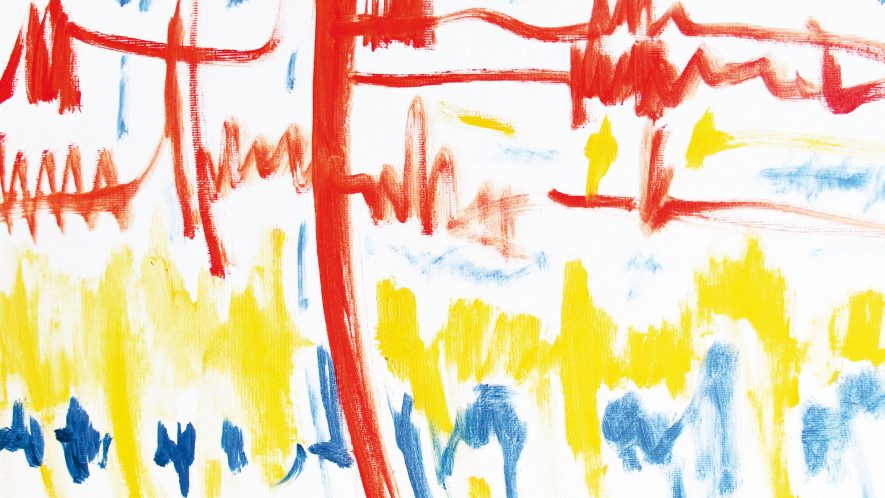 Vibrations | The driving forces in my life
From Friday 31 August to Friday 21 September 2018
OCRA – Creative Workshop of Living
Via Boldrini, 4 – Montalcino (Siena, Italy)
With the patronage of the Municipality of Montalcino, the Scuola Permanente dell'Abitare presents Vibrazioni (Vibrations), an exhibition for young and old, vibrant with emotion, that conveys deep feelings that touch the viewers' souls and senses.
"Ever since I can remember, painting and naturehave been the joyous driving forces in my life."
(Christine Persson)
Christine Persson is a strong person. Her disarming strength shows honesty and purity of intent. Her art does not need to have a pleasant meaning to be justified, to exist as such. Instead, it shows the possibility of using artistic intuition as a means of knowing ourselves, giving or not giving concrete answers to our questions, asking new questions. With the concept of Vibration, the title of the exhibition, the dimension of time immediately comes into mind: there would be no vibration if there were no space-time dimension. Whether it is stones, colours, microorganisms, human beings or geometric signs – everything that exists is a vibration, sends out information and constantly communicates with the world around it.
Through vibrations, energy is set in motion, is transmitted from one organism to another, without ever dissipating, but each time creating precarious, temporary, ever unstable balances.
Just like music, Christine Persson's approach is vibrant and can touch the strings of the soul: her works vibrate, they oscillate around a focal point, the human being, stripped of its crust and reunited with that background vibration that unites all creatures on earth, the creative energy that unites us all. Art as the transformation of ourselves, as we walk with unsteady steps our way to knowledge, knowledge of ourselves, of others, and of the interweaving that inevitably follows.
"What vibrates? Everything around us, a split second, everything that is there but we do not see or do not known… everything that is invisible but is out there… today more than ever, we live immersed in vibration, frequencies, movement. Don't ask me how come I can see and hear them, they came to my white canvases in a moment of silence and awareness".
Christine Persson has a deliberately practical approach that stimulates her to work with people. Her art is shared art that aims to reveal the vibratory capacity of our thoughts, to achieve awareness and actively influence reality, to generate the harmonic vibration that should be the background to our existence.
---
About | Christine Persson
Christine Persson was born in Sweden in 1955, she studied art in Stockholm and Paris, and she has lived and worked in Tuscany since 1985. Her artistic production is based on different techniques; at first, she created oil paintings, then she created paintings on fabric (tapestries) for many years and moved on to create collages, and in the end, she returned to oil painting. She has taken part in art exhibitions and contests in Sweden and Italy. She has exhibited her works in Sweden, Switzerland, Germany and Italy, the last time at the retrospective exhibition at the Fortress of Montalcino in 2015. Since 2005, she has organized courses and taught Vedic Art to children and adults.
---
Vedic Art Courses
During the exhibition, Christine Persson gives Vedic Art lessons for adults and children.
For more information, please visit www.christinepersson.com or send an e-mail to info@christinepersson.com
VERNISSAGE. Meet the artist
Friday 31 August 2018 at 7:00 p.m.
OCRA Creative Workshop of Living
Via Boldrini 4, Complex of Saint Augustin – Montalcino (Siena, Italy)
The initial tasting is offered by farming company San Polino, a small family-run company that uses permaculture and biodynamic organic farming to produce a high-quality Brunello di Montalcino wine. The company firmly believes that human beings and vines are symbiotically connected by the same thread that connects all creatures on earth. The harmony, balance and structure of San Polino wines reflect the intricate and wonderful ecosystems in the vineyard and the winery.
This wine reflects the richness of the terroir of San Polino.
www.sanpolino.it
Information about the exhibition
Opening hours: Monday to Saturday from 10:00 a.m. to 6:00 p.m. (except for public holidays)
Free entrance
OCRA – Creative Workshop of Living
+39 0577 847 065 | info@scuolapermanenteabitare.org
www.ocramontalcino.it