ferMENTInscena 2019
theatre workshop montalcino

FerMENTInScena – Thanks to the Bertarelli Foundation and the Municipality of Montalcino, Montalcino Theatre and the Permanent School of Living are promoting the fourth FerMENTInScena – Theatre Workshop Montalcino: an advanced theatre training course lasting 15 days and aimed at young theatre artists.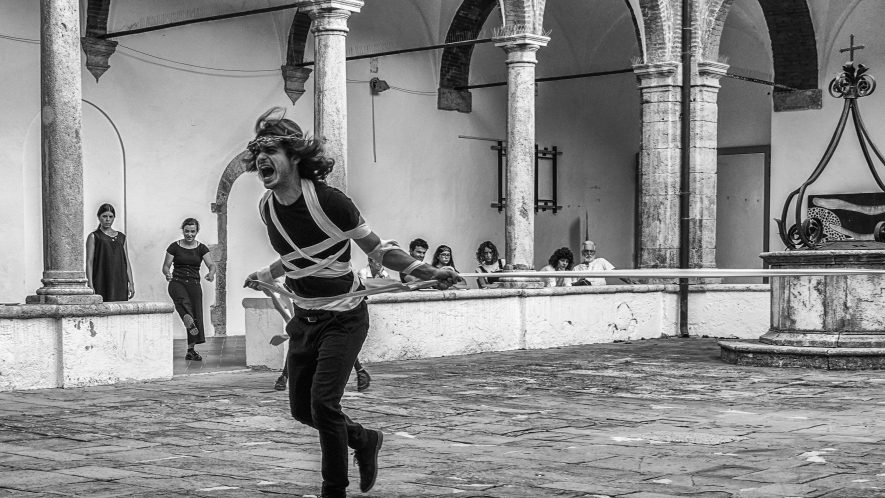 FerMENTInScena
22 August – 04 September 2019 | OCRA Montalcino (Siena)
Registration is open for FerMENTInScena – Theatre Workshop Montalcino, two advanced theatre training courses aimed at young actors and student actors aged 18 from around the world. During the entire training period, a show will be planned, which will then be held at the first FerMENTInFestA Montalcino Theatre Training Festival taking place from 5 to 8 September 2019.
---
Training programme of the workshop
The theme and leitmotif of the workshops proposed this year are Gentlemen and peasants, servants and masters. The training course is divided into experimental workshops held in different significant places in Montalcino – OCRA The Creative Workshop of Living and The Astrusi Theatre. The Astrusi Theatre and other outdoor places in the historic centre of Montalcino.
THE DRAMATURGY OF THE ACTOR | first workshop
by Francis Pardeilhan and Manfredi Rutelli
TRAPPED HEARTS | second workshop
Theatre workshop inspired by the work of Jean Genet
by Stefano de Luca
---
Who can apply and when are the workshops held
The workshop is held from 22 August to 4 September for a total of 15 days. Daily intense commitment is required. Students are accommodated at OCRA – The Creative Workshop of Living in Montalcino, in via Boldrini 4, Montalcino, Italy
Each workshop is aimed at a group of 11 young theatre artists, for a total of 22 students selected by the Examination Committee. In addition, a maximum of 6 listeners are selected from students applying in the area, with priority given to those living in Montalcino, Val d'Orcia and Val d'Arbia.
---
Certificates, scholarships, enrolment procedures and deadlines
The 22 regular students (not the listeners) selected by the examining committee will be able to benefit from a scholarship that covers the costs of the workshop and the expenses for full-board accommodation at OCRA The Creative Workshop of Living. The workshop enrolment fee for the selected regular students is € 260.00 (which is only the participation fee). Listeners are not offered accommodation during the workshop and their enrolment fee is € 130.00.
Those wishing to apply must: 1) be 18 years old as of 31 June 2019; 2) have a diploma from a theatre school, or have a good level of theatre experience, including non-professional experience, and/or have previously taken part in theatre or writing courses.
– Monday, 02 July – deadline for submitting the application form
– Tuesday, 09 July – communication of selection results
– Monday, 27 July – payment of the registration fee
---
Information and application
Via Boldrini 4 – Montalcino (SI)
Phone +39 0577 847 065 info@scuolapermanenteabitare.org
You can also write to us on Facebook at the page @ocramontalcino