The House of Memory of the Future in Maiano Lavacchio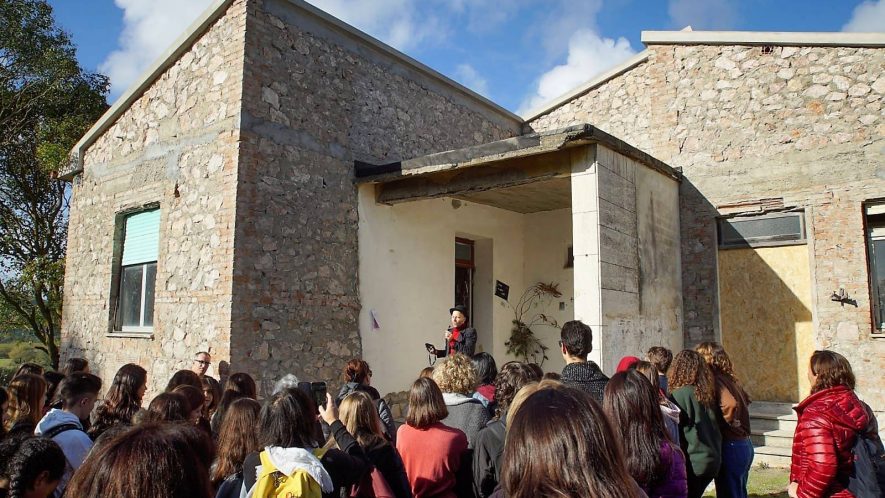 In Maiano Lavacchio we want an infinite place, in the sense that it is never finished, it is always under construction and, as should be the case with culture, it has no physical limits.
On Thursday, 8 November, the project Erasmus + Our Memories and I, which began in 2017 and is set to be completed with the partners' final meeting in Split in May 2019, kicked off the activities in the new cultural centre "House of Memory of the Future" of the ISGREC (Grosseto Institute for the History of the Resistance and Contemporary History) in Maiano Lavacchio, Tuscany.
Together with the Rosmini High School in Grosseto, the EUROM (European Observatory on Memories) of the University of Barcelona, the MUME (Museu Memorial de l'Exili) in La Jonquera, the Monturiol High School in Figueres, the high schools in Perpignan (Maillol High School and Pagnol College), the Wall Museum in Berlin, and the Hub Culture Croatia Association in Split, the ISGREC worked on the project of a memorial to be built in the place where 11 young people were killed by the fascists on 22 March 1944.
It didn't take long for me to let the very young designers understand that they were designing their very own future, and that we do not need a place to freeze the memory of an event that is an offence to human history.
Events happening today in the world tell us that building monuments as a warning to people to abandon war and genocide on the pretext of racial and cultural differences is no longer enough. We need to think of places where relationships can form social pacts through history and memory without preventing future alliances. Places where vile hatred can be replaced by love, the only one resource that can enable us to survive on this planet in happiness, as long as it is given to everyone and everything around us. We cannot compensate for some of our fathers' hatred just by making people feel guilty.
The main objective of the projects proposed is to transform such place into a place where relationships are formed, not only by making it emotionally charged and consistent with the context, but by using it for production and cultural growth and enabling it to increase knowledge through the active study of history in the contemporary world, without showing off culture or knowledge. The cultural value of this place is not limited by its relatively small size, as real places have no spatial or temporal boundaries. In Maiano Lavacchio we want an infinite place, in the sense that it is never finished, it is always under construction and, as should be the case with culture, it has no physical limits. E.M.+