OCRA art and architecture summer camp 2019
Residential summer camp for children and youngsters aged 8 to 14 years from 22 to 26 July 2019. Five days' creative workshops about architecture, art, archaeology, yoga and photography in an amazingly beautiful setting in the heart of Tuscany.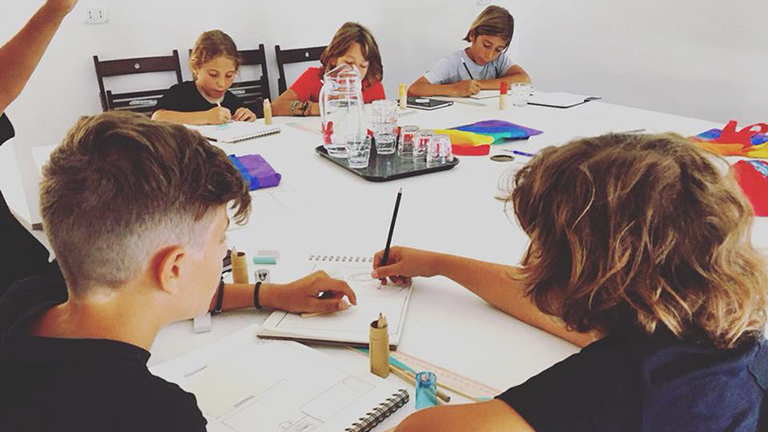 OCRA ART AND ARCHITECTURE SUMMER CAMP
22-26 July 2019 | OCRA Montalcino (Siena)
No city should be too large for a man to walk out of in a morning.
(Cyril Connolly)
The Permanent School of Living organizes OCRA SUMMER CAMP 2019, a week for boys, girls and youngsters who want to enjoy a highly stimulating experience at the Creative Workshop of Living in Montalcino.
Children and youngsters will live in a pleasant environment thanks to the rich variety of activities and events proposed: creative architecture and art workshops, playful experiments, approach to archaeology, the art of photography and the discipline of yoga. There will also be opportunities for "free" recreation, so that children and youngsters can get to know each other and talk to each other freely. An immersive experience in the world of planning, because planning is one of the things that distinguishes us from other living beings: we plan our day, we plan our work, we plan our free time and it is therefore necessary to think of a school that teaches and prepares children and youngsters to plan.
The theme of the project workshop "Villages, cities, metropolises – A city for everybody", allows young participants to learn about, describe and interpret the forms and components of urban areas, from primitive settlements to modern metropolises.  The discussion focuses on inhabitants, i.e. people and animals who live in our cities, thus defining their spaces and relations. Young participants will try to imagine an ideal city, a city for everyone, a city based on respect and built on the concepts of beauty, perception of space, environmental sustainability, ecology…
Objectives
Experimenting and exchanging ideas
Empathy and socialization
Motivation
Project approach
Enhancing creativity
We foster a passion for culture, art and architecture. We want young people to learn a transversal approach, to see the world through different eyes by playing and experimenting with their own passions, limits and interests.
Included in the camp
The young architect's kit
Meals (breakfast, lunch, dinner)
Sweet and savoury snacks made by us
Artists, architects
---
Our days
In the mornings, experiential workshops are carried out, practical activities for individuals and groups, and guided tours are organized.
After lunch together, organized activities are resumed with some breaks and free play in the open air.
In the evenings, children and youngsters can relax, have strolls and enjoy an ice cream in the square, watch a movie with friends, laugh and joke under the stars.
On Friday afternoon, at the end of the week, parents are welcomed and shown the projects created.
For us, food is the basis of human wellbeing, and daily meals together are an opportunity to taste new flavours and reflect on the importance of a healthy and balanced diet. For this reason, we make our own food with passion and fresh and natural produce.
Programme
Monday 22 | Welcome and guided tour
Morning: After the welcome, guided tour of the school and the complex of Sant'Agostino
Afternoon: Architecture workshop
Tuesday 23 | The project
Morning: Archaeology workshop
Afternoon: Travelling photography workshop
Wednesday 24 | Living Space
Morning: Yoga and photography workshop
Afternoon: Guided tour of the exhibition and art workshop
Thursday 25 | Art and architecture
Morning: Art workshop and architecture workshop
Pomeriggio: Architecture and photography architecture
Friday 26 | Presentation of the projects
Morning: Dance and architecture workshop
04:00 p.m. – 06:00 p.m. Presentation of the projects to parents, refreshments
---
COSTS
Residential Course: € 410 with overnight stay in OCRA Montalcino
Non-residential course: € 255, breakfast, dinner and overnight stay not included
Discount for siblings
Residential Course: € 300 with overnight stay in OCRA Montalcino
Non-residential course: € 180, breakfast, dinner and overnight stay not included
Methods of payment
On Monday, 17 June, the organizational secretariat communicates whether the applications have been accepted and the course has been confirmed. Payment of the entire registration fee must then be submitted by 24 June 2019 by bank transfer according to the course chosen. Prices do not include travel to and from Montalcino at the beginning and after the end of the course.
How to apply
OCRA Summer Camp 2018 is aimed at all children and youngsters from 8 to 14 years old.
Children and youngsters are divided into 2 groups:
8-10 years old (primary school) and 11-14 years old (junior secondary school).
Up to a total of 15 children and youngsters can apply. To apply, parents need to download, fill in and send the application form by 15 June 2019 to info@scuolapermanenteabitare.org with a copy of their children's identity document attached. OCRA Summer Camp allows those who do not wish to stay overnight to take part in the courses from 9:00 a.m. to 6:00 p.m.
---
Teachers and tutors
Director of Education: Edoardo Milesi
Coordination: Francesca Bianchi
Architecture workshop: Giulia Anna Milesi, Viola Grassenis, Giacomo Massoni 
Photography workshop: Giuseppe Firenze 
Archaeology workshop: Stefano Campana
Yoga laboratory: Perla Avirem
Bharatanatyam dance with Elena Ristori
Art workshop: Mario Bernardini e Corrado Paolo d'Alessandro
Vedic Art workshop with Christine Persson
Exhibition set-up by Isanna Generali 
INFO
OCRA Summer Camp 2019 | 22/26 July 2019
OCRA Officina Creativa dell'Abitare, Via Boldrini 4 Montalcino
Scuola Permanente dell'Abitare
Via Valle del Muto 25 Albino (BG)
Phone +39 035 772 499 info@scuolapermanenteabitare.org
Via Boldrini 4 – Montalcino (SI)
Phone +39 0577 847 065 ocra@scuolapermanenteabitare.org